Fleet Leaders
Rank:Commodore
Shrid
Race:Andorian

Rank:Commodore
Sirak
Race:Vulcan
User Online
Total: 3 Members: 0 / Guests: 3
No members online
Total: 3 Members: 0 / Guests: 3
We are Recruiting!
Tactical Officers - High
Engineering Officers - High
Science Officers - High
Website Support
Fleet Marine Force
It is with great pleasure that we officially announce the release date of the new Fleet Marine Force website. The release date will be Friday March 28th, 2014! The current FMF website will be unavaliable and replaced entirely with a new Star Trek LCAR theme and additional features. It is important that you backup any private messages that you wish to keep before this date. Forum stickies will be copied over to the new website, as well as your character profiles and avatars. Your temporary account password will be sent to you in-game one day prior to the switch over. Your personal FMF e-mails accounts will also be avaliable starting the 28th as well as instructions guiding you on how to access. On a personal note, I hope you are excited and anxious for the birth of our new website and hope you will enjoy the new and improved features that it has to offer. Many months of hard work and restless nights have gone into its creation as well as gathering funds for new technologies. I am eagerly awaiting your feedback come March 28th!
P.S. May aquire a few random fleet members for Beta Testing in the coming weeks!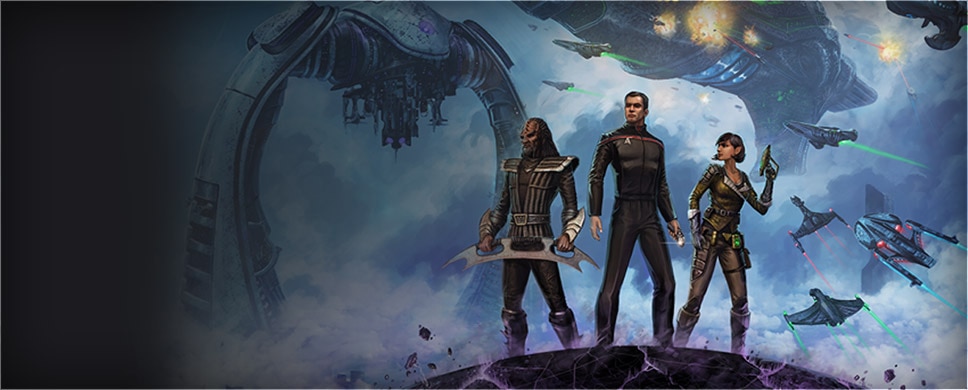 STO Season 8.5 is now live with new updates to features in-game.  Of the most notable is additions to ship and loadout management with the ability to change ships in sector space, as well as two available loadouts per ship.  Also available are features such as "Quick-Equip," a new small-craft PVP environment, and a weekend events calendar which will be replacing some hourly events.  Read More HERE.  Also read the official patch notes (PART 1) and (PART II)
New Solanae Dyson Ships are now available for purchase in the Z-Store for all three factions; Federation, KDF, and New Romulan Republic.  Feds receive a ship that's akin to the Polaris Science Vessel, KDF players may receive a ship built to their specifications of a battle cruiser or other type of large support ship, and the Romulans have adapted the likes of a D'deridex Warbird for their faction. 
Star Trek Online's 4th Year Anniversary event will be coming to a close soon.  The event is scheduled to go on unti February 27th, with the ability to buy required Qmendations with Lobi crystals until March 13th.  With the episode mission "A Step Between the Stars" giving 400 Qmendations, you still have time to get the Dyson ships for any characters on which it is still unclaimed.  The 400 Bonus Qmendations from the mission mean you only have to repeat the mission on Starfleet Academy for 15 days.  There's still time left!  Read More...